Learn Portuguese from
Portugal
…as it's spoken in Lisbon, Porto, Algarve and the rest of the country!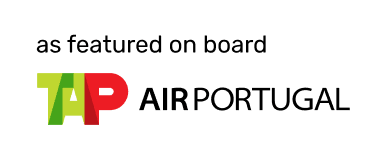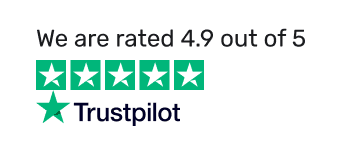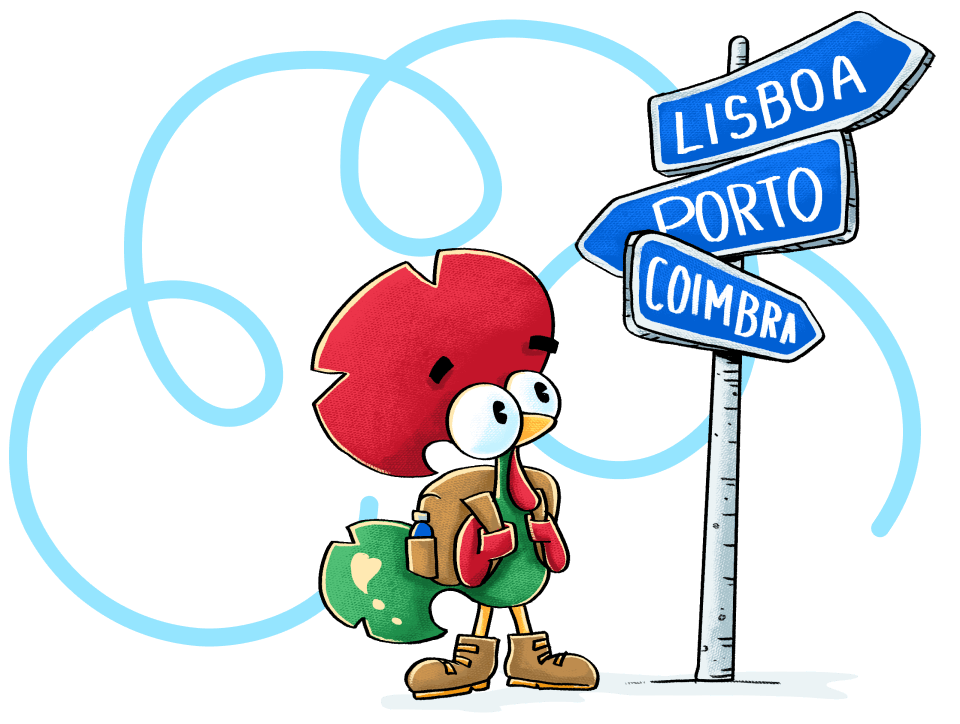 Are you planning to

estudar

study

,

trabalhar

work

or

viajar

travel

in Portugal?
Speak Portuguese Fluently
Improve your speaking and comprehension, with materials that adapt to your current nívellevel
Slow audio
Play audio and personal learning estilostyle
Slow audio
Play audio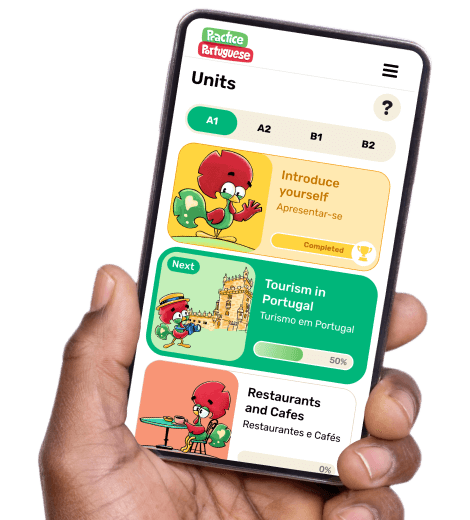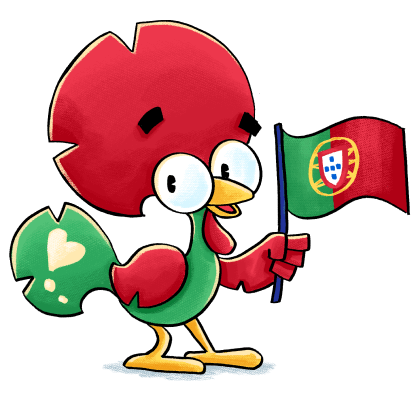 Strictly European Portuguese, since 2012
We don't split our efforts across any other línguaslanguages
Slow audio
Play audio , or even Brazilian Portuguese.
This narrow focus allows us to better serve learners of português europeuEuropean Portuguese
Slow audio
Play audio
The best European Portuguese learning site
I love your site. It is without doubt the best European Portuguese learning site I have found over the last 10 years that I have been struggling to learn the language... It allows me to go at my own pace and go back when it's useful.
– Graham D. (Portugal)
Brought smiles to their faces
I used your website to learn a little Portuguese before traveling to Madeira, Portimão, & Lisboa. What I learned gave me the courage to say at least a few words in Portuguese, which brought smiles to the faces of the people I spoke to. I'm so glad I found your website... many thanks for all the effort and ingenuity you've put into Practice Portuguese.
– Diane P. (U.S.A.)
€15 per month, UNLIMITED access
Cancel any time
100% money-back guarantee
Secure payment processing, protected by SSL
European Portuguese:
One Step at a Time
Our members-only course will immerse you in the most useful expressõesexpressions
Slow audio
Play audio and vocabuláriovocabulary
Slow audio
Play audio , with addictive, interactive Lessons that make learning fun!
🔓All 100+ Units are unlocked right from the start, so you can go at your own pace and skip right to the material most relevanterelevant
Slow audio
Play audio to you.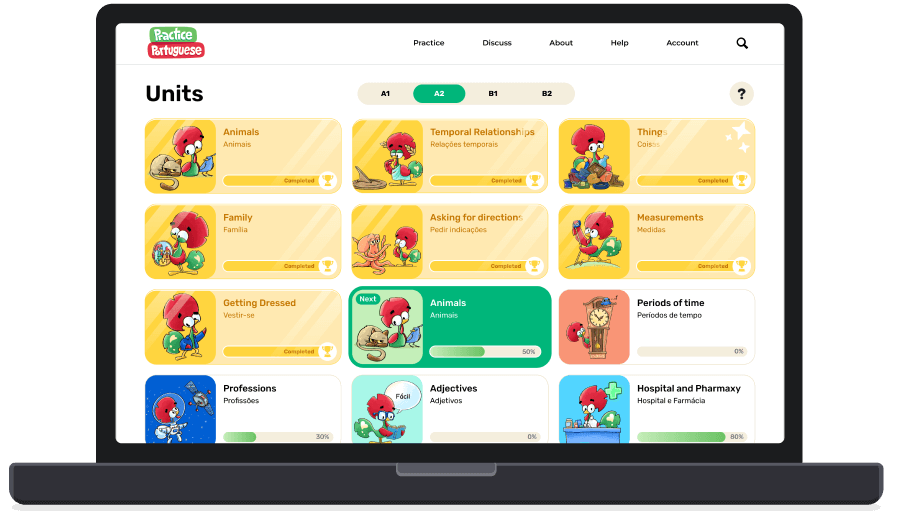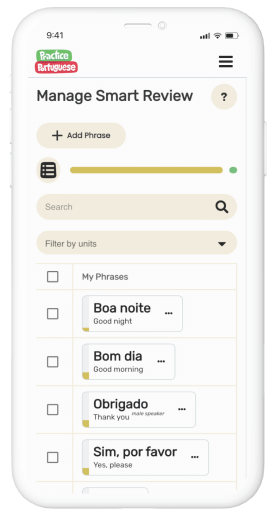 Personalized Flash Cards
Your learning style and current Portuguese level são únicosare unique (masc. plural)
Slow audio
Play audio
That's why we have Smart Review, which adjusts in real-time, based on your individual progress.
You won't desperdiçarwaste
Slow audio
Play audio valuable tempotime
Slow audio
Play audio repeating material you've already mastered.
Relevant and current
Your website is the highlight of my days ... When I wake up, the first thing I do is go to your site and practice my Portuguese ... I absolutely love your program and I am so thankful that I found it! It feels so personal, and it's so much fun. The topics of the videos and podcasts are so relevant and current.
– Christine S. (U.S.A.)
Learn with Native Speakers
Practice with over 40,000 high-quality audio clips, recorded by Portuguese humanoshumans
Slow audio
Play audio
Invaluable
Thanks for the amazing work on the learning studio. I'm doing A1/A2 at the moment and the ability to hear and read well enunciated European Portuguese is invaluable. I use the speech to text on my iPad keyboard to fill in the written answers where possible which I think is improving my own pronunciation.
– Warren B. (London)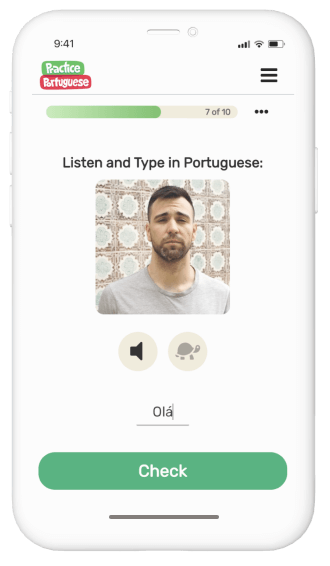 Practice Speaking (beta)
Easily gravarrecord
Slow audio
Play audio your own voice and compararcompare
Slow audio
Play audio it to the native recordings.
Train your ouvidosears
Slow audio
Play audio , and rapidly improve your pronúnciapronunciation
Slow audio
Play audio .
You can even have your pronunciation instantly analyzed, to check your accuracy.
New speaking activity
Finally I have found an online course that really helps me to learn European Portuguese - I find the new speaking activity particularly helpful.
– Chris W.
Portuguese Grammar, simplified
Learning Notes give you an insider's look at grammar, pronunciation and usage, without getting overly technical.
With plenty of audio examples and charts, as well as a comment section to discuss any points of confusion, the explanations will ajudarhelp
Slow audio
Play audio you feel confident moving forward through the Units.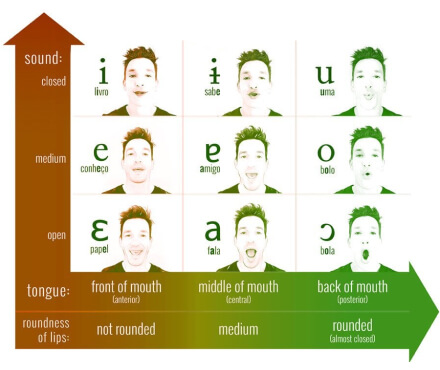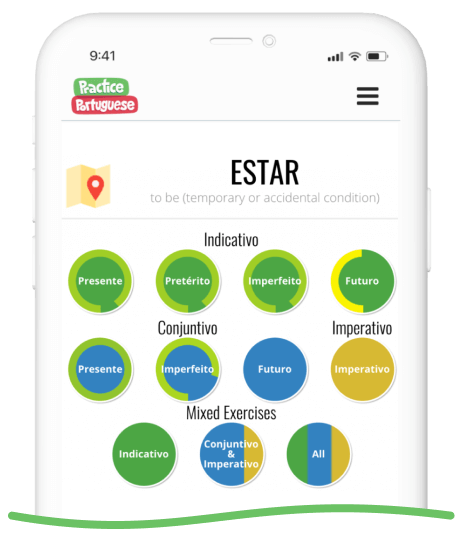 Master Your

Verbos

Verbs
Verb conjugations and using them correctly is a cornerstone of European Portuguese mastery.
Practice conjugations of over 250 verbs most commonly used in Portugal
Hover over each verb tense to instantly see all the conjugations and their sample usage.
Keep track of your progress to focus on your weaker verbs, (eg. the trickiest irregular ones!)
How long will it take you to encherfill
Slow audio
Play audio all the score bubbles?
Verb modules are excellent
Recently I have been concentrating on my verbs - because I really needed to do that. I find your verb modules excellent. I like the fact that I have to recognise a verb only from the sound. That has helped me a lot.
– David A.
Practice
with Audio transcripts, Video subtitles

e muito mais

and much more
Shorties
Bite-sized audio dialogues and articles (1-2 minutes long)
Mini-dialogues are very helpful
These mini-dialogues are very helpful, especially for those of us who have not had much practice in listening to spoken Portuguese and trying to comprehend what is said! I very much look forward to them!
–
Podcasts
Our flagship audio program that started it all! Wide range of levels, topics and show formats.
Visibly stunned
I started using your podcast when I was 22 and I'm 27 now, so it's been a massive part of my learning process. I actually got a chance to go to Portugal and was pleasantly surprised by how well I could communicate with the people there. I had to use it much more than I had anticipated, and in some of the towns we went to it was an absolute necessity. People were visibly stunned when I told them I was American and asked me how on earth I had gone about learning Portuguese.
– Jonathan K. (North Carolina, U.S.A.)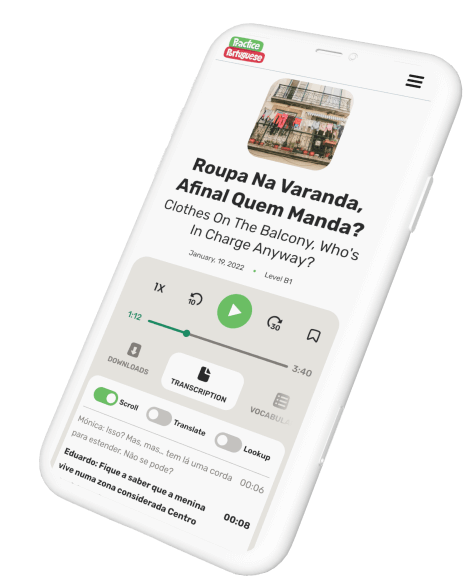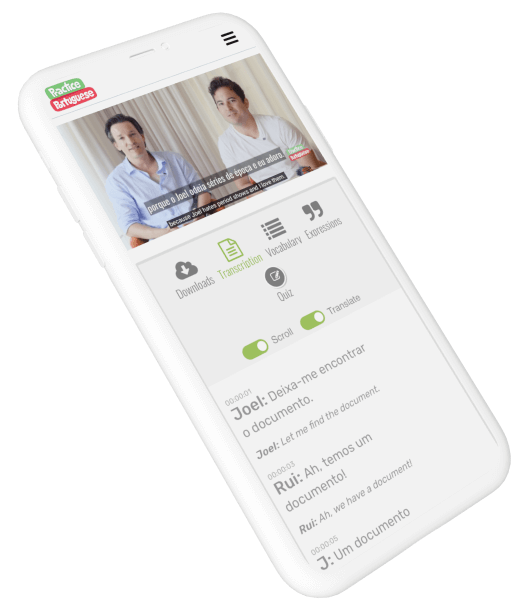 Videos
Features animated episodes, as well as candid footage of Portuguese natives in their natural habitat!
Absolutely essential
This material may be challenging, but it is ABSOLUTELY essential for beginners… [I have] been focusing on hearing/distinguishing the sounds, and I feel confident that practicing this will make it much, much easier to hear – and THEN understand – native speech.
– Michele
To get the most out of all our audio and video episodes.
MP3 and PDF Downloads
Listen offline with audio and transcript downloads.
English Translation
Toggle on the synchronized English translations whenever you need them.
Word Lists
Learn Portuguese vocabulary and expressions, and add them to Smart Review.
Quiz
Test your listening comprehension and prepare for the CIPLE
Look Up
Toggle on to automatically translate individual words from the transcript
Learn to say

€15 euros por mês

€15 euros per month

in other currencies:
🇺🇸
$16.49 dólares americanos
$16.49 US Dollars
🇨🇦
$21.99 dólares canadianos
$21.99 Canadian Dollars
🇬🇧
£13.39 libras esterlinas
£13.39 Pounds Sterling
(converted amounts are approximate)
So impressed
I was searching high and low for somewhere to learn European Portuguese but options were somewhat limited. I was so impressed with your learning lab and how fun you make your videos that I had to sign up and try this.
– Kris C. (Florida, U.S.A.)
Extensive yet so simple
I think Practice Portuguese is amazing, it is so rich in content and extensive yet so simple to use with the easy units leading up to more complex stuff. I've only just started and am really impressed.
– Matt C. (Somerset)
€15 per month, UNLIMITED access
Cancel any time
100% money-back guarantee*
Secure payment processing, protected by SSL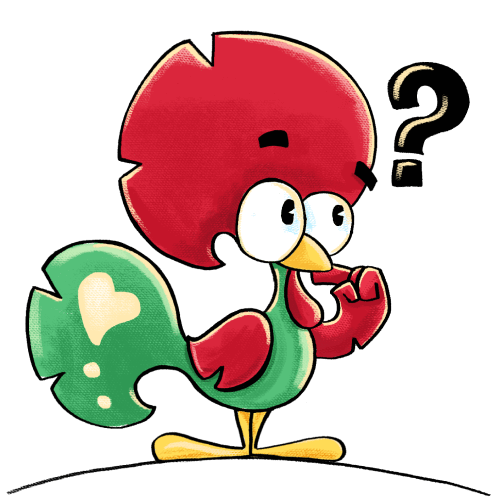 Frequently Asked Questions
Who We Are
The Co-Founders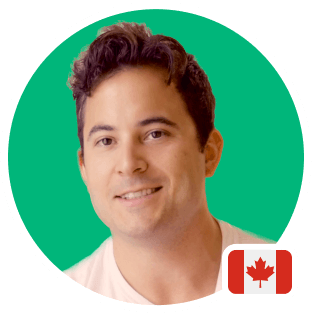 Proudly born and raised in Ontario, Canada, I moved to Lisbon in September 2012. I quickly realized how difficult it was to find study materials that weren't Brazilian Portuguese, so with some technical skills and first-hand experience learning the language, I quickly found a passion for helping to fill this void. European Portuguese is a beautiful language that deserves to be made easily accessible to learners worldwide, and it's been a privilege to be able to serve this wonderful community.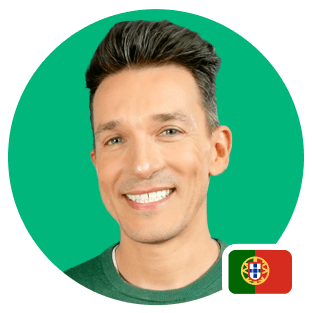 As you may have guessed, I'm the native Portuguese co-founder!
I've always been fascinated by how I can help estrangeirosforeigners
Slow audio
Play audio navigate the challenges of European Portuguese.
Learning the language is the best way to understand a culture, and I'm excited to share with you a piece of Portugal 🙂
Special thanks to our wonderful

equipa

team
Here are a few of our teammates who help make Practice Portuguese possible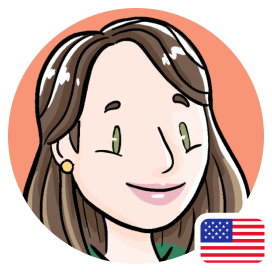 Molly
English Support & Admin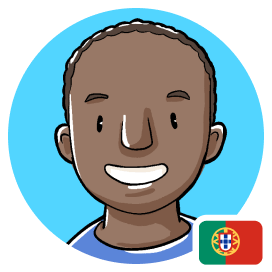 Joseph
Content, Forum & Support Master!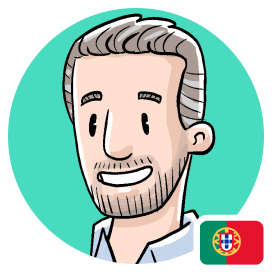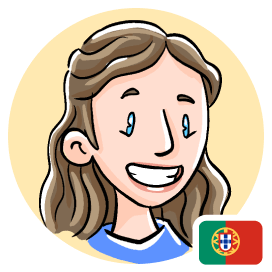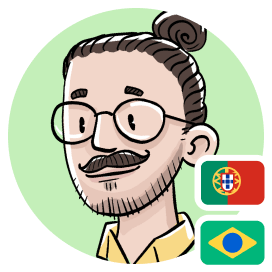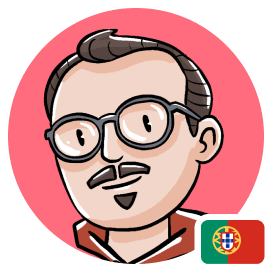 Eduardo
Content & Research