Open & Closed Vowels in European Portuguese
Many learners find European Portuguese natives much more difficult to understand than Brazilians – mainly because when spoken, it sounds much more closed.
In some cases, there are even vowel sounds that are barely audible! (Make sure you already saw the Mystery of the Disappearing Sounds as an entertaining 2-minute introduction!)
In this 2nd of our 3 video lessons in this special series, we explore what we consider the most challenging aspect of European Portuguese comprehension: Open, medium and closed vowel sounds.
By mastering this lesson, you'll not only better understand what European Portuguese natives are saying, but you'll make your own accent sound a lot more authentic when you're speaking Portuguese.
Important: We designed this video to be an ultimate resource that you can return to many times, regardless of your current level… so don't expect to understand and master every single pronunciation rule after just viewing it the first time! Watch it all the way through the first time just to get the general idea, then return to the content in multiple study sessions, pausing and rewinding as necessary.
Download the PDF guide below for more suggestions on how to use this lesson. Use it to follow along with the video and refer back to later.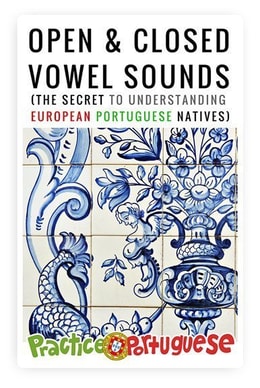 Download the Featured PDF for free below

We hate spam and guarantee you 100% privacy. You can unsubscribe at any time.
Download PDF
Important:The file will be downloaded to the "Downloads" section of the app (accessible from the side menu)
---
It's Your Turn to Practice!
Use the interactive diagram below to listen to and practice all these vowel sounds! (Watch video for demonstration).
Note: Unfortunately, we needed to remove the recording functionality, but you can easily use a voice memo app or other solution to hear your own voice as your practice.
(Make sure to also check out the 1st lesson in this series:
5000 Words You Already Know)