Portuguese cheese is a frequently found on the table, both at homes and in the restaurants of Portugal. Slices of regional cheese and ham are often served together with bread, olives and pates as starters.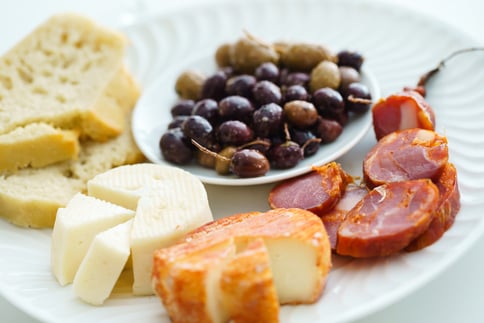 Although today there is a huge variety of cheeses and most are made on an industrial scale, traditional cheeses are still quite popular. These are handmade in queijariassmall cheese shops , also known as rouparias
Slow audio
Play audio , by queijeiros e queijeirascheesemakers .
Since the terrain on the continent is not ideal for cattle breeding, the shepherds focused mainly on sheep and goats. Therefore, most continental cheeses are of the sheep, goat or mixed varieties – known as queijos de misturamixed cheese . On the island of the Azores, the situation is different: since cows are the most popular livestock, the cheese there is commonly produced from cow's milk.
Further below, we will talk about some of the most popular traditional cheeses (some awarded) that, although produced on a larger scale, are still produced by hand. For now, we will show what vocabulary appears frequently associated with Portuguese cheese.
Cheesy Vocabulary
Cheese can be frescofresh
Slow audio
Play audio or curadomatured, cured . The longer the curaripening is, the more intense the taste becomes. The cura can also be called maturaçãomaturation . There are also queijos meia-curahalf aged cheeses .
Cheeses can be duroshard , semi-durossemi-hard , semi-molessemi-soft or molessoft .
In the case of soft cheeses, one can speak about their texturatexture being cremosacreamy or amanteigadabuttery .
There is also the Portuguese cheese called requeijãowhey cheese , which is similar to queijo frescofresh cheese – accompanying salads or served with jams as dessert, but also as a culinary ingredient for cakes, pies and puddings.
A cheese can be served inteirowhole , fatiadosliced , raladograted , as bolasballs and para barrarto spread . In Portugal, American cheese is known as queijo fundidoprocessed cheese .
There are also queijos sem-lactoselactose free cheeses , com ervaswith herbs and queijos apimentadosspicy cheeses (some traditional).
The most consumed cheese in Portugal is the queijo flamengoflemmish cheese , which is similar to the Edam cheese. This cheese is not a traditional cheese, being produced in an industrial scale. It can be found in a variety of shapes but it's mostly used sliced and in between slices of bread.
Traditional Cured Portuguese Cheeses
Queijo da Serra da Estrela
The Serra da Estrela cheese is the oldest Portuguese cheese and also the most popular, both at home and abroad. As its name indicates, it comes from Serra da Estrela, a mountain range that crosses the districts of Viseu and Guarda.
It is a cured cheese, made exclusively with milk from sheeps of the Serra da Estrela or Churra Mondegueira breed. The thistle flower, another of the ingredients, is also native to the region. Also simply known only as Queijo da Serra, it is a semi-soft or buttery cheese (depending on the maturation), with a white or yellowish colour. Its maturation time can last between 30 and 120 days.
Queijo de Azeitão
The Azeitão cheese is made from sheep's milk and comes from the region of Azeitão, in the district of Setúbal.
This cheese has a cylindrical shape, thin and yellowish rind, which can also be consumed. The curing time lasts 20 days and it's usually sold in vegetable paper. With semi-soft and buttery paste, these cheeses are very similar to those of the Serra, since their method of production is the same, with the sheep's breed and type of soil being the only differences.
Queijo de Serpa
Serpa cheese is a cured cheese from the Serpa region, in Alentejo. It is produced using sheep's milk and its texture is semi-soft and buttery. Its maturing time lasts at least 30 days. It has a strong aroma and spicy flavor.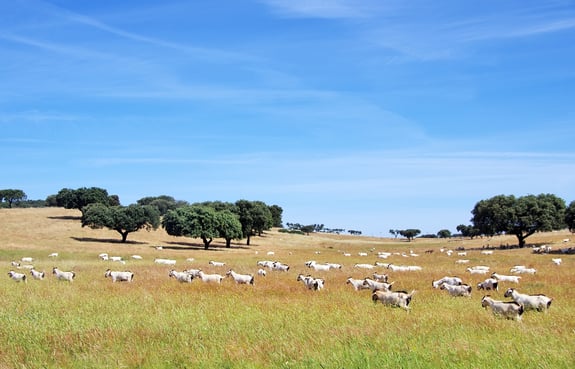 Queijo de Nisa
Nisa cheese is a cheese from the town of Nisa, in the Alto Alentejo region. Made from sheep's milk, it is a semi-hard cheese with a yellowish white colour.
Queijo de Cabra Transmontano
The Transmontano Goat cheese is a cheese from the region of Trás-os-Montes and Alto Douro – hence the name. It is produced using the milk of goats of the Serrana breed and its maturation can follow two paths: between 60 and 90 days, becoming a semi-hard cheese; between 90 days and 2 years, becoming an old mature cheese, with hard paste. Depending on the maturation, its aroma can be less or stronger and its taste less or more spicy.
Queijo Rabaçal
Rabaçal cheese is a cured cheese, from the parish of Rabaçal, in the district of Coimbra. It is produced from sheep's milk, goat's milk or both (mixture) and it's a cheese with semi-hard, white or yellowish paste. Of the cheeses presented here, it is the only one that uses the animal origin rennet instead of thistle flower. It is also possible to find this cheese in fresh form (before maturing) or half-matured.
Next time you're in Portugal, we hope you find a way to enjoy some of these delicious Portuguese cheeses! In the meantime, members can learn more food vocabulary and phrases in one of our units: